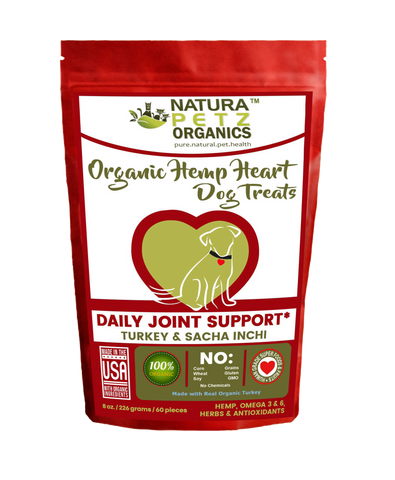 HEMP HEART DAILY JOINT & ACTIVE BODY SUPPORT TREATS* 60 Pieces 9 Oz TURKEY, SACHA INCHI & CHIA
SKU: HHJOINT60
Our deliciously healthy, premium organic soft chew REAL TURKEY & HEMP HEART JOINT & ACTIVE BODY TREATS* are made with organic Turkey, organic Sacha Inchi, Camu Camu, Maca and Chia Seeds plus Glucosamine & Chondroitin, to help support optimal joint and immune health in your dog. 
Our HEMP HEART JOINT & ACTIVE BODY TREATS* contain nutritional powerhouses in the form of potent antioxidants, Hemp Hearts, Omega 3 & 6, plus adaptogens, super foods and super fruits, which may help impart critical nutrition as well as may help lubricate joints, may help address joint pain, may help promote mobility and range of motion and may help promote collagen production (the building blocks for bones and connective tissue)  and limit bone resorption (related to bone loss), all of which are vital over your pet's lifetime, but are especially when joint issues present.   
Our HEMP HEART JOINT & ACTIVE BODY TREATS* adaptogen ingredients may help stimulate up to 30 percent of lost bone and connective tissue and may help limit inflammation and pain associated with joint decline.
Our HEMP HEART JOINT & ACTIVE BODY TREATS* contain plant adaptogens which are highly specialized plants that are able to detect stress and deficiency in the body. Adaptogens may also help encourage body system balance, or homeostasis.  
Meet our super foods, fruits and oils: 
Sacha Inchi: Super food Omega 3 & 6 adaptogen may help deliver premium nutrition, help lubricate joints, help promote elasticity around joints & range of motion, help limit inflammation & help regulate immune health.
An adaptogen is naturally pre-coded to look for dysfunction and to help correct imbalance nutritionally and phytochemically to help restore whole body balance.
Camu Camu: Super food & super fruit antioxidant & adaptogen may help promote collagen proudction for bone, joint, skin, teeth & eye health, may help protect cellular health & may help build your pet's natural defense system.  .  
Maca: Super food adaptogen & antioxidant, may help reduce body system stress, promote immune health & whole body energy & vitality.
Journal of Veterinarian Medicine & PetFoodIndustry recognize maca as functional food for dogs and cats
Also, studies have determined that Maca signals the Endocannabinoid System strictly through its own natural plant chemistry, and when combined with CBD oil, may potentiate the effects to be derived from Maca and CBD to help deliver greater layered health benefits.
Hemp Hearts: Super food Omega 3 & 6 nutritional powerhouse may help limit inflammation & help promote immune health.   
Our REAL TURKEY Hemp Heart Treats are soft and chewy, natural & organic, human grade & deliciously healthy. 
60 Pieces 9 oz bag.
Approximately 1.5 mg of CBD per snack piece
Infused with adaptogen botanicals, herbs, super foods and super fruits. 
Organic.  Human Grade.  Non-GMO.
Bio dynamically, organically, ethically & sustainably raised & harvested.
No chemical additives, preservatives or colorants.
Recommended serving:  
Up to 24 pounds 1-2 pieces per day
25-50 pounds 2-3 pieces per day
51-75 pounds 3-4 pieces per day
Over 76 pounds: 4-5 pieces per day 
Ingredients: Organic turkey, potato flour, organically-cultivated hemp hearts, organic coconut oil, vegetable glycerin, organic sacha inchi, organic camu camu, organic maca, organic chia seeds, glucosamine, chondroitin & Vitamin C (ascorbic acid)
* Not suggested for use during pregnancy or lactation. This product is not intended to diagnose, treat, cure or prevent any disease and is not intended for human consumption. These statements have not been evaluated by the FDA.