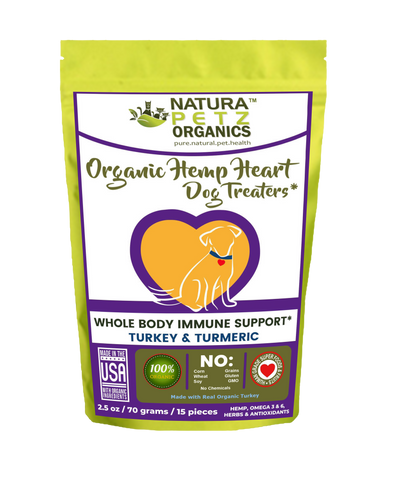 HEMP HEART WHOLE BODY IMMUNE TREATERS* 15 Pieces 2.35 Oz. TURKEY & TURMERIC
SKU: HHIMMUNE15
Our deliciously healthy, premium organic soft chew REAL TURKEY & TURMERIC HEMP HEART WHOLE BODY IMMUNE SUPPORT 15 PIECE TREATERS* are made from organically cultivated hemp hearts and organic Adaptogens, Super Foods and Super Herbs, including Turmeric, Maca and Cat's Claw, to help support optimal immune health and wellness in your dog over its lifetime!
Our HEMP HEART WHOLE BODY IMMUNE SUPPORT TREATERS* contain nutritional powerhouses in the form of potent antioxidants, Hemp Hearts, Omega 3 and 6, plus super foods and super fruits which may help support deep immune function, may help limit inflammation, may help promote digestive health and wellness, may help lubricate joints, may help provide pain relief related to joint decline, and may help encourage whole body system immune balance, which is especially critical in senior and immune compromised dogs. 
Our HEMP HEART WHOLE BODY IMMUNE SUPPORT TREATERS* contain adaptogens which are highly specialized plants that are able to detect stress and imbalance in the body and may help modulate immune health by up regulating or down regulating immunity when needed.
Our HEMP HEART WHOLE BODY IMMUNE SUPPORT TREATERS* may also help provide nutritional and cellular protection throughout your dog's body system as a potential disease preventative, may help promote healthy native gut flora, digestion and elimination. 
Journal of Veterinarian Medicine & PetFoodIndustry recognize maca as functional food for dogs and cats 
Meet our super adaptogens, food, herbs & oils: 
Turmeric: Super food antioxidant & adaptogen, may help limit inflammation, help lubricate joints, help promote digestion, help support cognitve health & help promote general whole body immune health. 
An adaptogen is naturally pre-coded to help look for stress and dysfunction, to help correct imbalance nutritionally and phytochemically to help restore whole body balance. 
Maca: Super food adaptogen, antioxidant & Omega 3 & 6 nutritional powerhouse, may help reduce body system stress, help promote whole body immune health & whole body energy & vitality. 
Cat's Claw: Super food adaptogen & antioxidant may help support deep immune support as needed, may help limit inflammation & may help support native gut flora for stomach health.
Hemp Hearts: Super food Omega 3 & 6 nutritional powerhouse may help limit inflammation & help promote immune health.   
Our REAL TURKEY treaters are natural & organic, human grade & deliciously healthy.   
Each bag contains approximately 15 treats in a 2.35 Oz bag.  
Recommended serving:  
Up to 24 pounds 1-2 pieces per day
25-50 pounds 2-3 pieces per day
51-75 pounds 3-4 pieces per day
Over 76 pounds: 4-5 pieces per day 
Ingredients: Organic turkey, potato flour, organically-cultivated hemp hearts, organic coconut oil, vegetable glycerin, organic turmeric, organic maca, organic cat's claw extract, organic chia seeds & Vitamin C (ascorbic acid) 
Keep away from children. Refrigerate once opened.  
Contraindications
May stimulate immune health and is contraindicated for pregnant or nursing animals, for animals scheduled for organ or bone marrow transplant or skin grafts or scheduled for surgery as is mildly blood thinning.   
Drug Interactions
Mildly blood thinning, it may increase the risk of bleeding when taken with aspirin and blood thinners such as warfarin, Coumadin®) and heparin; anti-platelet drugs such as clopidogrel (Plavix®), and nonsteroidal anti-inflammatory drugs such as ibuprofen (Rimadyl, Tramadol, Motrin®, Advil®) or naproxen (Naprosyn®, Aleve®). May lower blood pressure.
Cautions
Possibly cautioned for pets taking medication for high blood pressure or stimulant medications and for pets scheduled for surgery as it may mildly thin blood. 
* Not suggested for use during pregnancy or lactation. This product is not intended to diagnose, treat, cure or prevent any disease and is not intended for human consumption. These statements have not been evaluated by the FDA.